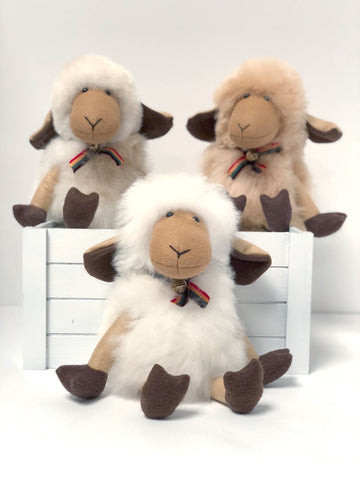 Alpaca Stuffed Sheep 14"
This handmade Alpaca Stuffed Animal will certainly make for a fun companion for kids and adults. This quirky collectible will spruce up your living space with its cute and charming appearance, and whether you place it on your couch, a chair, or even your office cubicle, this little sheep will surely bring a smile to anyone who sees it. And since it's made from 100% baby alpaca, prepare yourself for lots of snuggles and cuddle time.
A cute little fella you can add to your collection or just to spruce up a boring corner, this Alpaca Stuffed Sheep made from 100% alpaca will make you smile and treat you to the coziest snuggles.
MATERIAL - 100% Baby Alpaca 
CARE - Spot wash with mild detergent
---
We Also Recommend